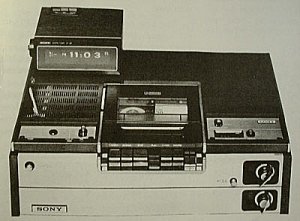 The initial one-hour version of Beta was quickly superceded by a slower running version, Beta II, also giving two hours. All US and Japanese Beta machines sold used this slower system; an additional extended-play mode, Beta III, was added later which gave even longer running times at the cost of slightly poorer picture quality.





The SL-7200
Betamax reached the UK in 1978. Despite its high quality, it was eventually defeated in the Format War, and in 1988 Sony began manufacturing VHS machines. This is covered in more detail in the Format War exhibit.

Incidentally, the name Betamax is derived from a Japanese word "Beta", which apparently means quality (and can also describe the recording system) plus "Max" to imply maximum quality. There is some confusion about the exact name, however; All Sanyo machines use Betacord, the camcorder format (see room 9) was called BetaMovie, and the later derivatives were SuperBeta, Beta HiFi and BetaCam. So, some people consider that "Beta" alone is the name of the format. I tend to use "Betamax", because that's what most people remember.